We Can Help You
Holistic, Conservative Care conveniently located in Saint Louis, MO.
We are dedicated to your health and well-being. We manage musculoskeletal pain syndromes with holistic, conservative methods including chiropractic adjustments, massage therapy, acupuncture, nutrition and exercise prescriptions.
A Philosophy of Wellness
We are committed to a philosophy of wellness. We encourage and educate you in the prevention of disease and the promotion of health with diet, exercise and stress management.
Dr. Linda's Back Pain Solutions
Dr. Smith has been managing back and neck pain for 36 years. The tips and strategies that follow are carefully designed to help you have a healthy, pain-free back and neck.
Top Tips for managing your back and neck pain.
The American College of Physicians has issued new guidelines for managing back pain: Chiropractic care, Acupuncture, and Massage Therapy are the top recommendations. Opioids are discouraged.
Please make sure to view the video below regarding Dr. Linda's Best Back Cushion. 
Dr. Linda has focused on creating the best back cushion for your car. If you are looking for the best lumbar support, low back support cushion, look 
no further than Dr. Linda's Best Back Cushion. 
News and Updates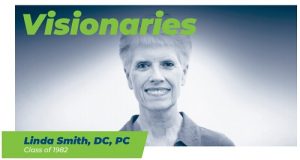 Dr. Smith is honored as one of eight outstanding alumni of Logan University for her work to support the chiropractic profession and to bring chiropractic care to underserved populations.
Read more in our blog article.
Dr. Smith, on behalf of the Arthritis Foundation, was recently interviewed on Elder Talk on AM1380, The Pulse. She discusses maintaining mobility as we age, avoiding pain medicine, and understanding the place for hands-on health care.
You can access the talks through iTunes or DropBox.
iTunes – part 1       iTunes – part 2
DropBox – part 1   DropBox – part 2
Dr. Smith featured as arthritis honoree…
Dr. Smith featured in Logan Tower as 2016 Arthritis Foundation Chiropractic Honoree.
She is the first chiropractor in the nation chosen for this position. Please consider a donation to support this important organization at http://www.arthritis.org/missouri/.
Stay connected with Hands On Health through social media!
Visit our new pages on Facebook and Twitter.